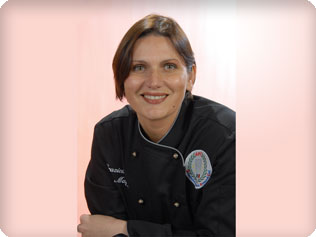 Name:
Graziella
Surname:
Malgeri
Birth date:
8-19-1968
Sons/daughters:
Chiara (6)
Preferred dish:
homemade pasta with fresh tomatoes and basil
Preferred wine:
Brunello di Montalcino tenuta Solera
Has a degree in herbal science, she has a wonderful baby girl and she has a great passion for animals, she has seven dogs (which were all abandoned).
Graziella loves her country, where she learned, thanks to her Grandmother and to her Mother, the passion for all the old recipes and the desire to share the old traditions tuscan cooking.
Her great passion has lead her to attend specific cooking courses and "mise an place" to coordinate in the best possible way every event.